Mcommerce Development Services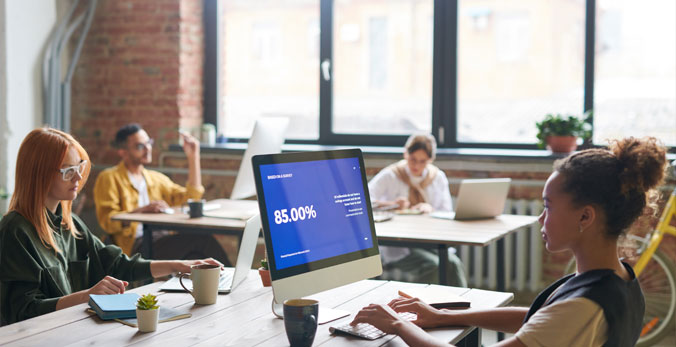 How We Make Shopping Easy Through Mcommerce?
The smoother your shopping experience is, the better it is for your ecommerce business. With online customers demanding everything in front of their mobile screen with just a click, it is crucial that your mobile commerce app development meets the expectations and business challenges. Our experts assist you in developing an application that helps in striking a harmony with your audiences and makes your customers feel comfortable by presenting the app in local languages.
As an ever growing mobile commerce application development company, our digital expertise and data driven methodologies allow us to emphasize your retail store marketing and sales. We incorporate the latest technologies for creating fully featured ecommerce apps that are required to run a thriving online e-store.
Our Mobile Ecommerce Features Include:
At IDS Logic, we help our clients harness the power of mcommerce to create apps that operate effectively in both iOS and Android platforms. Our solutions are calculated to trigger sales and deliver high on ROI. Not only this, all our mcommerce app designs are mobile responsive and optimized to support mobile platforms.
Easy Registration:
Customers opt for the apps whose registration process is simply and easy. With this though in mind we create easy to use registration processes for mcommerce apps.
Search and Filter Option:
This helps users to exactly search, identify and locate products saving customers a lot of time, presenting the best matched results and improving sales.
Multiple Payment Options:
This feature helps consumers to choose any one of the payment methods with which they are comfortable and proceed confidently with the transaction.
Easy Checkout:
After choosing the desired products, buyers can easily purchase them through a secured and easy to use checkout process without any hassles.
Local Language:
This feature helps your customers feel at home while using the app by presenting the content in their native language. We develop apps that connect customers from different linguistic backgrounds.
Push Notifications:
This helps your estore to send the best deals and offers to the customers so that they can easily grab the opportunity. This improves the conversion rate.
Business Benefits of Developing an Mcommerce App:
With 9 out of 10 customers having their phone nearby around the clock, creating a mobile app for your ecommerce store has significant benefits:
Convenience:  Mcommerce makes it easy to search the desired services, products or stores and conduct transactions easily.
Access anywhere and anytime: The data and information about the product can be accessed from anywhere and anytime of the day.
Global reach: Permits companies to enter markets that was previously untapped and reach out to customers residing miles apart.
Scalability:  Helps to manage everything from inventory to product marketing and scale up or down according to the business.
Our Mcommerce App Development Process:
Our mobile app developers apply the best possible approach to create the app in a way so that they are simple to navigate and buyers can find the desired products with minimum effort. To make the apps successful, we adopt a process that includes:
A Clear Understanding of the Need and Business Objective:
We refine the requirement and prepare a detailed specification document.
Create Wireframes:
We define the user flow and interaction with the app and create the information architecture of the app.
Design the App:
This is the step where we design the concept, graphics, icons and also define the identity and design assets.
Start Coding:
Here is where we actually start developing the codes making the application functional. We create code in respect to server side components
Test and Debug:
Our quality assurance team undertakes rigorous testing of the app to ensure that the app works perfectly and debugs any errors that may be present.
Deploy the App:
We submit the app to the app store and then help you start building your revenue steam by making your business available on mobile devices.
Our Mobile App Development Services
Let's discuss your project
Get in Touch with us at 0113 815 0160 to discuss your project & work together