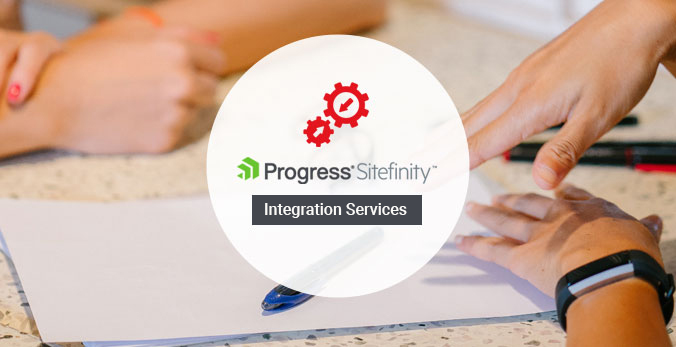 How Our Sitefinity Integration Services can Help Your Business?
At IDS Logic, we are constantly looking for ways to help extend and integrate improved functionalities or data from reliable third party services. We know the value and productivity this can bring to your site whilst improving your user experience. Sometimes the benefit of seeking new functionality decreases productivity, broken business processes or poor site results. If this is your experience, then it's time to consider your options. Here's how we can help:
Streamlines business operations and processes
Increases user engagement
Creates an efficient platform to manage online transactions
Gathers insights from business data
Drive Marketing Efficiency and Business Growth with Sitefinity
Today, websites that are succeeding in the market are those that are constantly evolving and are increasingly personalized, customized and optimized. This aids those organizations deliver market growth and achieve their business goals and targets. Our Sitefinity experts help to streamline digital journeys to positively contribute to the bottom line of the business and boost marketing efficiency. We help you make the best marketing decisions based on insights that take account of the whole business, easily connecting the right data sources that encompass all interaction touch points. Our Sitefinity CMS solutions allow you to have:
Interaction of data across channels

Segmentation and personalisation

Customer journey analysis

Personalized reports

Predictive analytics
Customized Sitefinity Integration Solutions
Sitefinity CMS development offers the competence to integrate easily with multiple systems, making it easy for the marketers to offer personalized user experience. Our Sitefinity integration services assist the users to the web pages and also create better engagement for your online business.  So, if your goal is to convert your website visitors, our Sitefinity developers can help you to customize the integration solutions, so that it suits your exact business needs.
Microsoft Dynamics CRM integration
This is a highly popular CRM that empowers the customer engagement with real time information. If you are willing to integrate CRM with your Sitefinity website, then our expert developers can help you to easily capture and integrate the customer interactions.From updating your contact information to placing orders or registering for events, we help you to do all easily and efficiently. When the two systems are integrated, they offer a single point of entry to the business data and send it to the customers in a controlled and manageable format.
Salesforce Integration
If your enterprise has to integrate Sitefinity with Salesforce, so that they can exchange real time data, then our Sitefinity professionals have the expertise to make it happen. Our integration services include custom solution, which is used to manage and store the business information gathered to take a business action.The connectors help to develop the flow of information in the CRM by linking it to the activities that the contacts perform on their site. The integration also helps to deepen the segmentation for online business personalization.
Sitefinity Integration with PayPal
PayPal is a popular payment gateway that helps to simplify the online receipt and payment. If you are willing to have a customized payment gateway, then our Sitefinity experts in Leeds can help you to integrate PayPal where the website admins can create dynamically the detailed order forms, connect secure payments, auto-shoot payment confirmation to customers and set personalization for the customers.
Our Sitefinity Development Services
Let's discuss your project
Get in Touch with us at 0113 815 0160 to discuss your project & work together