Magento Development Leeds

We are Ready to Empower Your Online Business. Are You?
As a Magento ecommerce agency in Leeds, we help business owners with real solutions that have a great impact on your business.
Our team, having worked with various industries can help you over your ecommerce hurdles and launch an e-store that can serve the people in the area and help generate more sales and revenues.
What our Magento eCommerce Agency in Leeds Offer?
With skilled and enthusiastic developers on board, we offer a wide range of services for companies that are willing to create rich Magento ecommerce sites. Having successfully completed various challenging projects that are related to different industry verticals, our Magento developers have empowered the ecommerce business to utilize the robustness and scalability of this ecommerce platform.
Magento ecommerce development:
Great design and development is what is needed for your ecommerce site and we help you to create an attractive ecommerce store.
Custom magento theme development:
We help you to select the best theme for your website and customize it as per your brand and business objectives
Magento 1.x to Magento 2.x upgrade
To avail the latest features of Magento, we offer services to upgrade your store easily and seamlessly.
Extension development
Magento extensions can help to enrich your store with latest functions and we can create customised extensions for your business.
3rd party software integration
We also help our clients with 3rd party software integration with your existing Magento application.
Support and maintenance
Our technical staffs offer solutions for any issues or bugs and help to improve your system all the time.
How Businesses in Leeds can Benefit from Magento eCommerce Development?
With ecommerce development gaining popularity from the past few years, people all around Leeds are also much enthusiastic about launching their business online. Owe it to the treasure of benefits and profits that Magento offers to the entrepreneurs.
Powerful features and functions: It can support up to 500,000 products on a single site and handle over 80,000 orders per hour.
Advanced SEO: The platform is SEO efficient and gives products and services a great chance to rank on the search engines.
Easy third party integrations: Businesses can easily connect with other third party software like Ebay, Paypal, Mail Chimp, Shopping QuickBooks and more.
Build in upsells and cross sells: Add prompts to browse related options on checkout pages and products, increasing UX and sales potential.
Customize the security permissions To keep your website safe from unauthorized access, Magento offers options to customise multiple levels of security permissions.
A huge community: With more than 240,000 business owners using Magento, there is a huge community of developers worldwide to solve any issues quickly.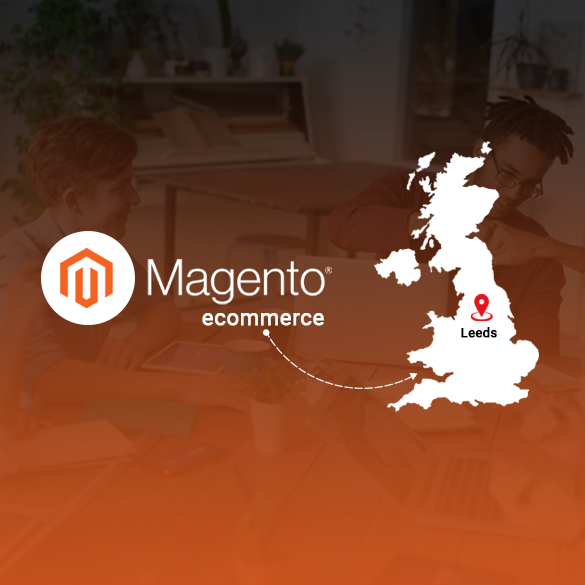 Let's discuss your project
Get in Touch with us at 0113 815 0160 to discuss your project & work together